Similar to trends reported for the national housing market for April (NAR), Queens inventory of homes for sale has increased and price appreciation is continuing to stabilize.  This shift is helping to normalize the housing market here in Queens which has seen double-digit appreciation in some areas over the past several years.  With attractive interest rates currently, more homes to choose from and a healthy job market, this should encourage buyers who may have been discouraged in the past.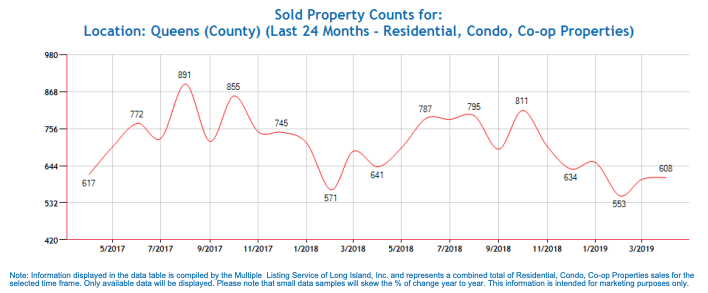 The Total Number of Properties Sold dropped -5.1% from last year at this time.  608 properties were sold this April in Queens and 641 were sold last year.  For each of the last nine months the number of properties sold has declined from the units sold in the previous year.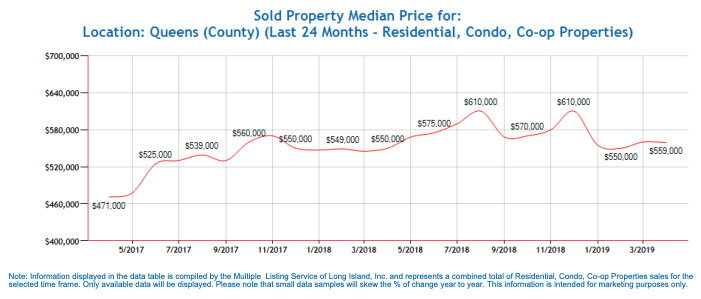 The Queens Median Price for Sold Properties was fairly level with last year, increasing 1.6% – $559,000 for this year and $550,000 for properties sold last year.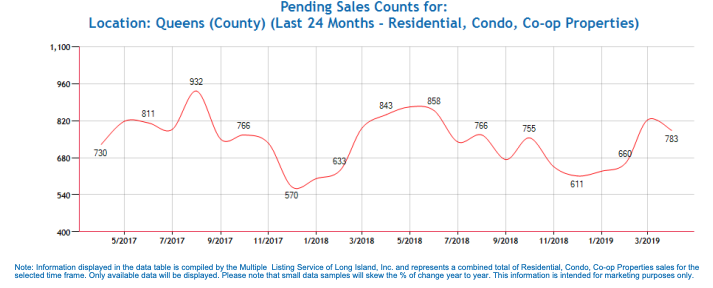 The Number of Pending Sales for April declined -7.1% with 843 contracts of sale last year versus 783 contracts this year.  For the first quarter of this year, sales were increasing.
The Pending Sales Median Price declined -8.4% from the previous year – $545,000 for this year down from $595,000 last year.
Inventory of Homes for Sale increased over that available last year by 28% with 4,184 homes for sale last April and 5,354 homes for sale this year.  This trend is continuing and months of inventory for sale is now at 6.5 months, increasing from 4.9 months for sale last year at this time.  6 months of inventory represents a balanced market with an equal number of buyers and sellers. So in many neighborhoods, we are moving from a seller's market to a buyer's market.  Each area must be analyzed specifically as different dynamics impact demand and value.
For an update on your home's current value contact Helen Keit, Licensed Broker, Keller Williams Realty Landmark 32-55 Francis Lewis Blvd. Flushing NY 11358
Data From:  Long Island Board of Realtors Multiple Listing Service