With the announcement of Amazon headed for our Queens neighborhood of Long Island City, there is a lot of speculation about the demand for housing not only in that location but in other neighborhoods of Queens and Long Island with transportation convenient to Long Island City.  Neighborhoods such as Astoria, Jackson Heights, Sunnyside, Woodside and Forest Hills have been mentioned initially, but neighborhoods throughout Queens may benefit because of the variety of types of housing and prices more affordable than Manhattan and many neighborhoods of Brooklyn.
Queens is a large borough with over 2 million in population.  Each sector, ie. northeast, southwest, central etc. can be analyzed in closer detail.  This report is a general overview but be aware different variables can affect sales in each neighborhood.  In addition, there are differences in the luxury market for high-end homes which will be analyzed in a separate report.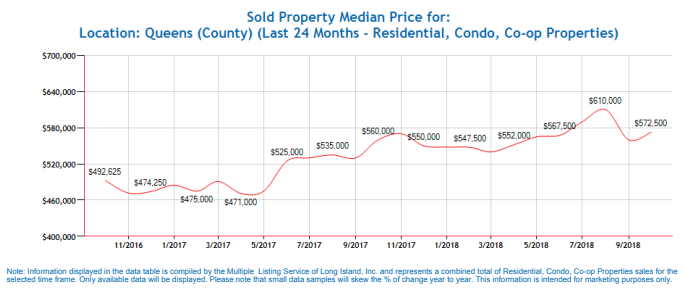 The Closed Median Sale Price for October was $572,500, a 2.2% increase over the median price of $560,000 reported last year at this time.Price increases are slowing from double-digit to single-digit increases probably in reaction to higher interest rates.  With rates up 1% over last year, borrowers may now qualify for less.  Monthly payments for a loan reflecting a 1/2 point increase could mean $200 a month more, and a one point increase in interest rates could cost $400 more for an average monthly loan payment.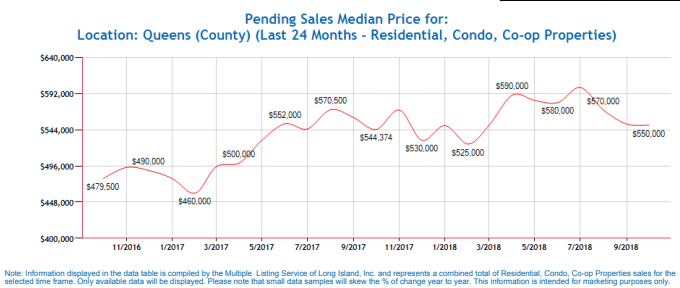 The Pending Median Sale Price for October was $550,000 – a slight drop from $553,000 for September.  Pending sales are those that just went to contract and are 2-3 months more current than closed sales statistics.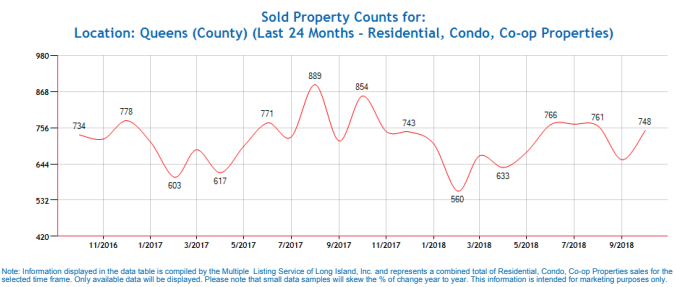 The Number of Closed Monthly Sales for October was 748, up from closed numbers for September, but down -12.4% from 854 properties sold last year at this time.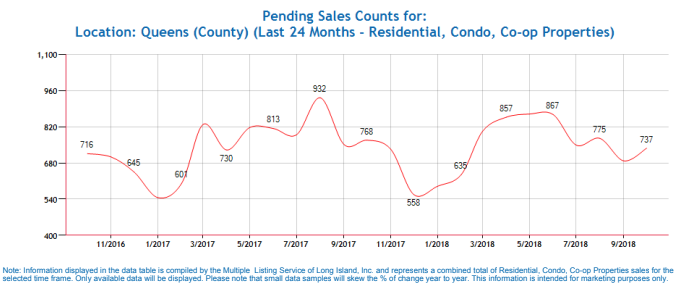 Pending Sales Count for October was up slightly from September but down -4% from units sold last October.
The Number of Properties Currently for Sale in Queens is 5,172, up 23% from 4,206 homes and apartments for sale last year at this time.
Current Months of Inventory for Sale is 6.6 months versus 5.1 months available for sale last year at this time.  Six months of inventory for sale represents a balanced market (under six months is a sellers market – where we've been, and over six months starts to head to a buyers market) with equal number of buyers and sellers.
With price appreciation slowing and more homes for sale to choose from, buyers are starting to make offers and look to purchase before interest rates increase further as predicted for 2019.
All statistics reported by Long Island Board of Realtors Multiple Listing Service.
Call or email 800-742-0126 or Helen.Keit@kw.com for a free update on your home's current value.  Also ask about our full menu of relocation services, our 50+ Lifestyle Moves Program, or our report 47 Ways To Make Your Home Sell Faster.
Helen Keit, Licensed Real Estate Broker
SRES, CLHMS, CRP,GMS, CSA, MBA
Keller Williams Realty Landmark
32-55 Francis Lewis Blvd.