As we finish 2018, buyers are being cautious, taking their time to find the right home and bidding carefully, eager to keep within their housing budgets.  A recent update on the housing market (station 880 radio segment 12/16/18 on Ric Edelman's Program) mentioned that the housing market was starting to look like 2005.  Housing prices have had a 10 year run-up in values and wages have definitely not increased at nearly the same rate.  There is an affordability problem that is being felt nationwide and certainly here in New York City.  The advice given was that when buying a home today, make a buying decision based on lifestyle needs and not investment expectations.  This rate of increase for the past 10 years is not the norm and likely will not be repeated for the next 10 years.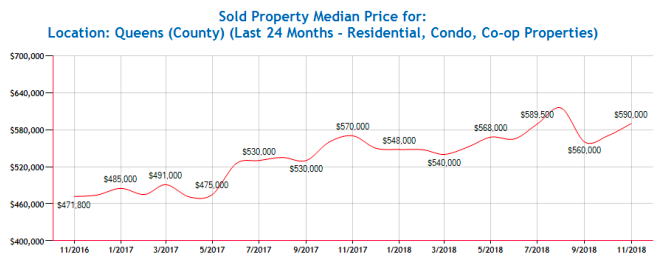 The Closed Median Sale Price for November was $590,000, a 3.5% increase over the median price of $570,000 reported last year at this time.  Price increases are slowing from double -digit to single digit increases, probably in reaction to higher interest rates and lack of affordability for many buyers.

The Pending Median Sale Price for November was $539,000 , a -5.4% decrease from $570,000 reported last year at this time.  Pending sales are those that just went to contract and are 2-3 months more current than closed sales statistics.

The Number of Closed Monthly Sales for November was 623 properties sold, down -16.3% from the 744 homes and apartments sold last year at this time.

The Number of Pending Sales for November, 636, was down -13.5% from the number of sales recorded for last year at this time, 735.
Current Months of Inventory for Sale is 7.5 months versus 5.3 months available for sale last year at this time.  This statistic is calculated by taking the total number of properties for sale divided by the number of contracts reported per month.  This equals the months of inventory for sale.  Six months of inventory for sale represents a balanced market with an equal number of buyers and sellers.  Under six months of inventory available indicates a sellers' market – where we've been.  Over six months starts to head toward a buyers' market.
More homeowners are realizing now may be a good time to sell their home and adding to choices available for buyers, shifting the market toward a more balanced, sustainable pace.
This report is a general overview and other factors can affect sales in each neighborhood of Queens.  In addition, there are differences in the luxury market for high-end homes.  Contact us for a more detailed, accurate analysis of your neighborhood and home's value in today's market.
All statistics reported by Long Island Board of Realtors Multiple Listing Service.
Call or email 800-742-0126 or Helen.Keit@kw.com for a free update on your home's current value.
Also ask about our full menu of relocation services, our 50+ Lifestyle Moves Program, or our report 47 Ways To Make Your Home Sell Faster.
Helen Keit, Licensed Real Estate Broker
SRES, CLHMS, CRP,GMS, CSA, MBA
Keller Williams Realty Landmark
32-55 Francis Lewis Blvd.